Illinois Real Estate: Continuing Education
State-Approved Continuing Education
Why Managing Brokers prefer our
"Flex"

Webinar for Broker Management CE

No travel required
There's no need to worry about traveling to a specific location. Simply participate in an online class via webinar from anywhere you have Internet access. You can even attend on your tablet or smartphone.
Learn more
.
As easy as checking your e-mail
Just log in and click a link to enter your webinar session. You'll be joined with other Managing Brokers throughout Illinois and around the country.
Create your own schedule
No need to be unavailable for days at a time or even stuck in front of your computer all day. Attend short three-hour sessions. Once you've attended all four sessions, you'll have satisfied the entire 12-hour requirement. Just schedule your test with one of our proctors or your own.
Learn more
.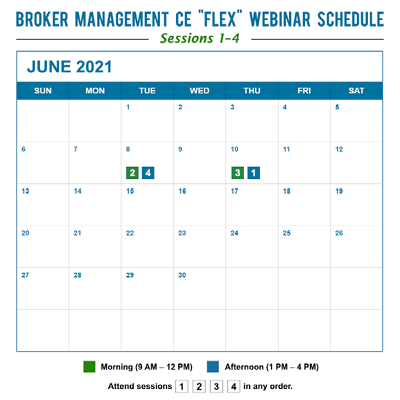 Free study guide included
In Illinois, all CE courses require a proctored final exam. Passing the exam should be no problem at all because it's written by our school to go along with our course. But, for an extra dose of confidence, we'll send you a free study guide, which highlights the important course topics.