Proctored Final Examinations
Real estate license law does not permit students to complete self-study exam(s) alone. A proctor must administer the exam(s) and ensure that test-taking rules are enforced. Students will only be eligible to schedule course final exams when all required coursework has been completed, including attendance at all mandatory class or webinar sessions (when applicable).
Due to the COVID-19 pandemic, many students have chosen to take proctored exams for pre-license courses via online remote proctoring, which has certain technical requirements. If you do not have the required technology indicated below or prefer not to take your exam in this format, you may schedule an in-person exam appointment at one of our testing locations. Note: In-person testing options are limited. Visit our COVID-19 response page for additional information.
Technical Requirements for Online Proctored Exams

Students requesting an online proctored final exam must have:
Reliable, high-speed internet connection.
One of the following camera-enabled mobile devices:

iPhone
iPad
Android smartphone
Android tablet

One of the following computers:

Mac desktop or laptop
Windows desktop or laptop
Chromebook

A quiet, private space to complete testing.
A modern web browser on each device. (We strongly recommend Google Chrome for an optimal experience)
Blank sheet of scratch paper. (This scratch paper will need to be destroyed before disconnecting with your proctor.)
A pencil.
A basic calculator.
Current/Valid Photo ID Card (i.e. Driver's License, State ID, etc.)
Login credentials to REI Student Portal (Username and Password)
How it Works
Real Estate Institute has partnered with a third-party proctoring service to administer all proctored final exams. The third-party we have selected is a leader in remote/mobile proctoring of high-stakes examinations. In advance of your scheduled exam time, please turn on your computer and mobile device and be sure they are connected to the internet. In advance of your exam, you will receive an e-mail with a direct link to connect with your proctor. You will follow this link on your computer, not your mobile device.
You will click the link in the e-mail on your desktop or laptop computer to connect with your proctor via chat.
The proctor will send you a separate link to connect your mobile device for monitoring, which will enable the proctor to monitor your activity during the exam.
The proctor will explain the exam rules and procedures and obtain your confirmation that you understand the rules.
The proctor to view your workspace using the device's camera(s) and verify your identity.
The proctor will direct you to launch the exam on your desktop or laptop computer and monitor your activity throughout the exam session.
Your exam will be scored immediately upon completion.
For most exams, after scoring you will be permitted to review and see which questions were answered correctly and incorrectly.
Once you have completed all of the scheduled exams, the proctor will provide some final instructions and then disconnect your exam and connection to your mobile device. Additional information will be provided on a follow-up e-mail and/or call from a member of the Real Estate Institute support team within one business day.
Additional Notes
Plan to limit the use of your home internet connection (by other devices or family members) during the exam.
We encourage you to have your mobile device fully charged in advance of the exam.
Breaks, including restroom breaks, are not be permitted during the exam. You will be required to remain in front of your devices for the full exam duration.
Mobile devices must be placed in silent mode. Answering incoming calls/texts/other notifications is strictly prohibited.
Your scratch paper is intended for brief notes and calculations for math problems (when applicable). You will be required to destroy your scratch paper at the end of the exam. Writing of word-for-word questions and/or answers is strictly prohibited.
In the event of any violation of our rules, you will fail the course and will not be permitted to retake the exam(s).
In the event of technical issues with your device(s), you may be required to retake the entire examination; on a different date.
Exam Scheduling
You must pass your final exam before your course expires. Your course expiration date will appear next to your courses in your Course List.
Only schedule your exam once you have completed all the required prerequisites of your course.
Make sure you are fully prepared. If you do not feel prepared, do not schedule your exam! Please contact our school to speak with an instructor. There is a fee if you reschedule your exam multiple times.
You can select an exam appointment directly within your Student Portal. On the Student Home Page, click the Schedule An Appointment orange button under the Schedule A Proctored Final Exam section.
Illinois Candidates Only: Prior to scheduling your exam, you must first establish an account with PSI, the state testing vendor. You will be required to provide this number when submitting your testing appointment registration. If you have not yet obtained this, please do so by clicking here. After completing the form, you will receive an e-mail from PSI that contains this number; it will begin with the letters IL.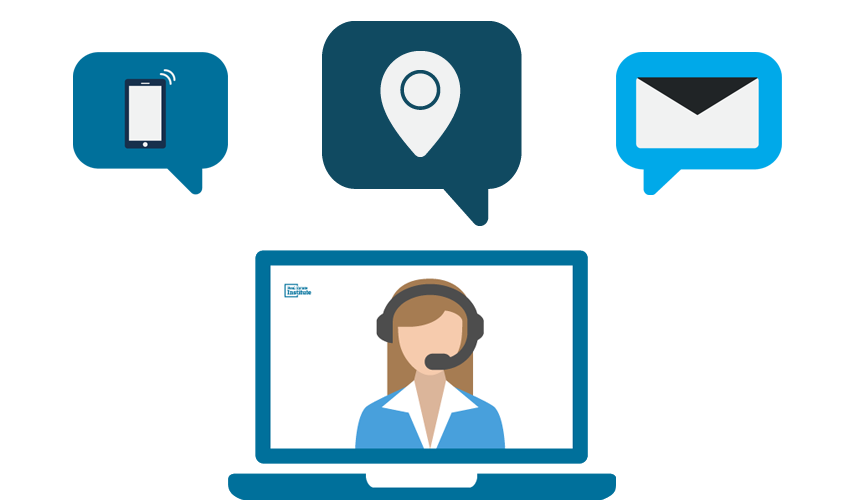 Questions & Support
If you need any assistance with your course(s) and/or exam scheduling, please contact us.